by Sarah Regan; mindbody.green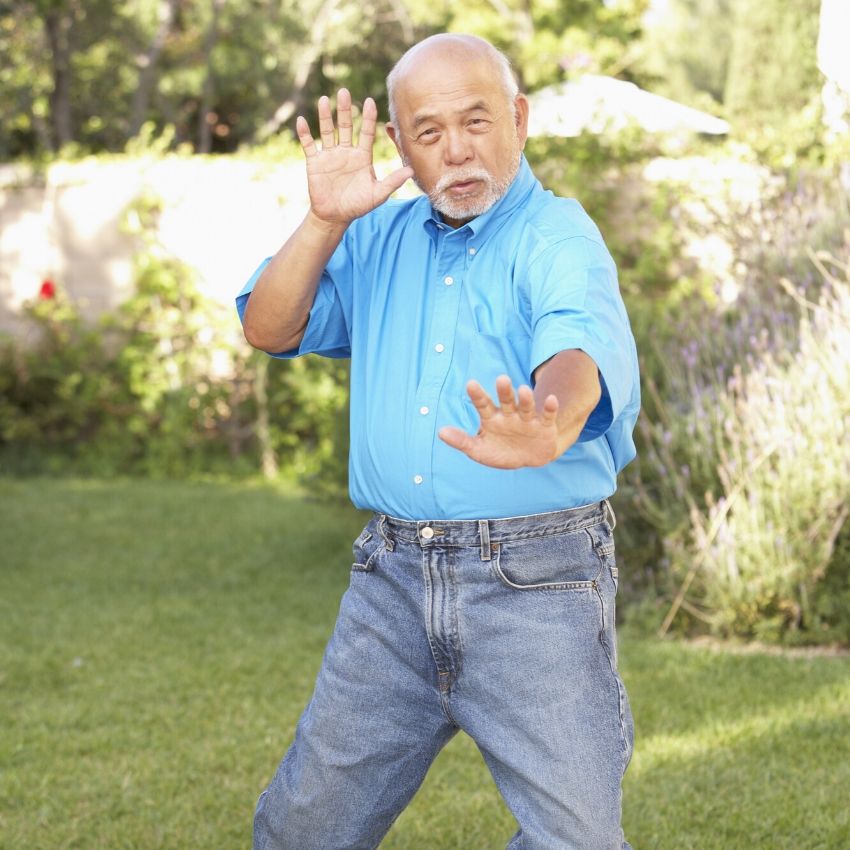 Tai chi is a form of mindful movement paired with breath that originated in China thousands of years ago. Today, along with other movement practices like yoga and qigong, it's practiced around the world and celebrated for its many benefits including easing low-back pain, improving balance and stability, and reducing stress.
According to a new review from the University of Arizona, tai chi also seems to help people with cardiovascular diseases boost mood and overall quality of life.
This research was a combined analysis of past clinical trials that studied the effects tai chi on quality of life for people with heart diseases such as coronary heart disease, hypertension, etc. For the research, a total of 15 clinical trials were analyzed, spanning data on 1,853 patients with an average age of 66. 56% of the participants were men and 44% were women.
Based on the analysis, tai chi correlated with less psychological distress as well as reduced depression—two issues that are common for heart disease patients. It also seemed to improve the overall quality of life for patients.
While the mind-body mechanisms of this practice aren't fully understood, study author Ruth Taylor-Piliae, Ph.D., notes she thinks breath and posture play an important role. "During tai chi you have good body posture," she says, "and research has shown that this enhances mood. We also know that holding your breath can cause stress and anxiety."
Who can benefit from the gentle practice.
Cardiovascular diseases—like other chronic illnesses—often bring with them a myriad of negative symptoms, both physical and mental. Psychological distress is not uncommon, and as such, it's important for patients to seek out gentle activities to improve their overall quality of life. As studios around the country begin to open back up, patients can consider signing up for classes in their area. (If you're new to the practice, you'll want to learn from an instructor to prevent injury.) Once you get the hang of the movements, consider checking out online classes like mindbodygreen's The Complete Guide to Tai Chi with Michael Taylor.
Taylor-Piliae adds that anyone, regardless of heart health, can benefit from this gentle, restorative practice. "Tai chi is well suited for people of any age or exercise ability and can be safely adapted for anybody," she says. "If you've had a heart attack or stroke or are affected by another heart condition, I would strongly recommend adding tai chi to your recovery and rehabilitation. There are physical benefits like improved balance, and it's good for mental health, too."