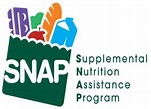 I often hear the concern that eating healthy fresh fruits and vegetables can be very expensive. However, I would submit to you that failing to eat healthy food can cost even more.
Did you know that the United States Department of Agriculture is eager to come along side those who qualify to assist with the acquisition of fresh fruits and vegetables? For more than 40 years, the Supplemental Nutrition Assistance Program (SNAP) has served as the foundation of America's nutrition safety net. It is the nation's first line of defense against hunger and offers a powerful tool to improve nutrition among low-income people. In the fiscal year 2011, SNAP served nearly 45 million people, about one in seven Americans. SNAP alleviates hunger and improves nutrition by increasing the food purchasing power of low-income households, enabling them to obtain a more nutritious diet by preparing food at home.
SNAP has been found to make a difference in the lives that it touches in the following 6 ways:
It touches the lives of millions of people who need help to put food on the table. SNAP is available to nearly anyone who qualifies with little income and few resources.
It supports those whose wages are too low to lift them out of poverty. Most of the people receiving assistance are employed.
It raises food expenditures and improves nutrient availability.
It responds to changing economic conditions. The program automatically expands to meet the increased need when the economy is in recession and contracts when the economy is growing, making sure that food gets to people who need it.
It delivers benefits with a high degree of integrity. 98% of all participating households are eligible for SNAP benefits.
It provides flexibility to States while ensuring the protection of a national safety net.
This year, the Clarksville Downtown Farmer's Market will be accepting EBT. In addition, the Market will offer a double-up program called Fresh Savings which helps shoppers who receive Supplemental Nutrition Assistance Program (SNAP) benefits stretch their SNAP dollars on fresh produce. When shoppers spend up to $20.00 buying any SNAP eligible food with their EBT card, they receive the equivalent amount in Fresh Savings tokens to spend on fresh fruits and vegetables the same day or at future visits. Fresh Savings is a healthy-food incentive program supported by AARP Foundation, United States Department of Agriculture ("USDA") and co-sponsored by United Healthcare.
If you would like to check your eligibility for SNAP Click HERE
If you would like to check your eligibility for Fresh Savings Click HERE